There are 3 rooms downstairs and 2 upstairs. The shared breakfast and living room is a cosy place that can be used to sit comfortably.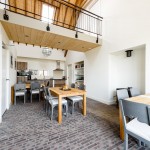 De Limes: A beautiful big room in roman style on the the first floor with own spacious bathroom. It includes a table to work at and a sofa. This room can be used by 4 people.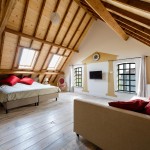 De Boomgaard (the Orchard): The room is situated on the first floor and has a table, some cosy seats and its own bathroom. Fruit used to be stored in this room.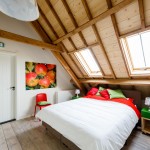 Het Koetshuis (the Coachhouse): You are invited to sleep on the place where the coaches used to be kept. The room has a door to the terrace, a table, seats and of course it's own bathroom.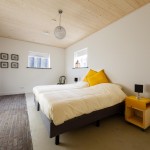 De Melkput (the Pit): This used to be the room to milk the cows. It has been transformed into a large room with beautiful view, a door to the terrace and a bathroom.
.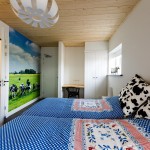 De Kromme Rijn: This room on the ground floor is also suitable for disabled. The room has a door to the terrace, a table to work on and some seats.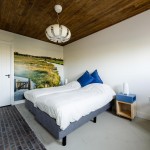 All bathrooms have a rainshower, sink, radiator for towels and a toilet.
In the living room there is a possibility to make coffee and tea. There is delicious apple juice made of our own apples provided for free. Wine and beer are available.